Helping people get back on their feet.
Falls are the number one reason for a trip to the emergency room and the second leading cause of accidental deaths after car accidents. When you walk on a surface that's wet or slippery and fall after losing footing or traction with the ground, that's called a slip and fall. Trip and fall is when the surface under your feet is uneven or there's an unexpected object you trip over. Either accident can be serious, sometimes fatal.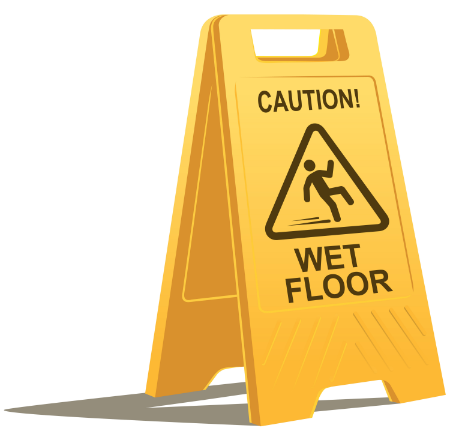 Have you or someone you love had a slip & fall injury?
Was the floor at work recently mopped but no sign indicated it was wet?
Was your mother left alone in the nursing home when she slipped and fell?
Was the sidewalk in front of your office building covered in ice?
Was there an electrical cord on the lobby floor that was difficult to see?
A safe surface to walk on is the responsibility of the property owner. If you or a loved one has been injured due to a Slip & Fall or Trip & Fall accident, our job and our mission is to hold the at-fault party responsible for your pain and suffering.
Whether you slip or you trip,
what you do next could profoundly affect your outcome.
For your safety, download our 8 THINGS YOU SHOULD AND SHOULD NOT DO guide below, print it, and keep a copy in your home. Make additional copies for people you love.
8 Things You Should And Should Not Do After A Slip & Fall Injury
CALL 911 If you lost consciousness after your fall, or feel as if you've been injured, call 911 right away. Do not attempt to get up without assistance.
FILE OR DOCUMENT AN INCIDENT REPORT WITH THE FACILITY Ask the facility for a copy.
WAIT FOR MEDICAL HELP TO ARRIVE Only a medical professional can tell if you've been seriously injured.
WHILE YOU WAIT FOR THE POLICE OR EMT, TAKE PHOTOS TO DOCUMENT THE ACCIDENT Photograph the floor where you slipped, or the object you tripped on, as well as your injury.
DO NOT POST PHOTOS, VIDEOS, OR TEXT ON SOCIAL MEDIA Many cases have been negatively affected by the photos, texts, and videos that they have posted after their accidents. Don't do it. And while you're at it, don't share photos or videos with anyone.
GATHER WITNESSES' INFORMATION If anyone witnessed your accident, (ask them to stay while you wait for the emergency crew and) get their story as well as their contact information.
PRESERVE AND PROTECT THE CLOTHING AND SHOES YOU WERE WEARING Traces of whatever you slipped or tripped on may be left on your clothing, or perhaps blood from your injury. Either could be important evidence for your case, so put them in a protective covering for future use as possible evidence.
CONTACT A PERSONAL INJURY ATTORNEY QUICKLY Leave it to the professionals to manage the legal aspect of your accident. Don't try to handle your case on your own. Remember: you pay nothing unless you win your case. The sooner you hire an attorney the better it is for your case and your outcome.